I saw the 8 seasons of Shameless UK and gosh i love the brits, they make some fucking good show. Shameless US is good too but i have a soft spot for the british Franck Galllager.
If you don't know the shows i have them, the eight seasons of the UK version and the beginning of the US version.
I have a premium megaupload count, so if you want them, you have only to ask.
Warning it's not peace and love, clean and soft, it's hard, crap and fucking, the real live and it's so good.
I had so laugh watching the supernatural episode, the guys are dorks "the french mistake" episode was very good and funny, they laugh about themself and it's fantastic.
Question for our american friend, why this title ? There's a reason ?
Some caps of the guys from this episode (clic to see in large size)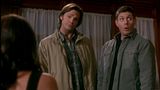 ( More behind the cut )